Le Tonkin Restaurant
Le Tonkin Restaurant has been well known for authentic Vietnamese cuisine ever since our opening in 2000.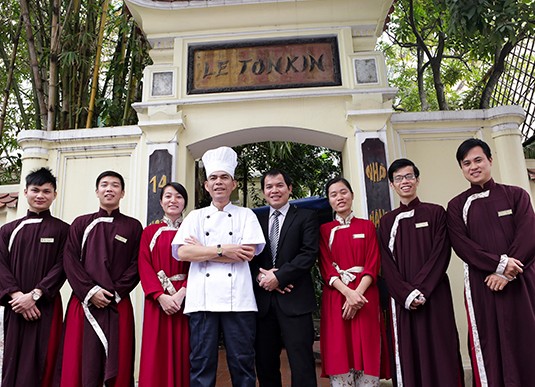 Our restaurant is housed in a gorgeous 100-year old French villa. Indeed, Le Tonkin Restaurant is a special cultural heritage in Hanoi. Our dinning room spots an antique design, attractive and filled with bold yet cozy historic feel, augmented with the view of chandelier lights illuminating from the gardens outside
Our French villa is decorated with many intriguing antiques such as oil lamps, traditional bronze artifacts, porcelain vases and pots.
The name "Le Tonkin" originated from the French colonial period, referring to the northernmost region of Vietnam where it was known for great Vietnamese cuisine. Our menu is rich and with Vietnamese culture and gastronomy, while our amicable staff are dressed in traditional costumes.
All the dishes are prepared by our highly experienced Chefs who pay exquisite attention to details. Furthermore, the ambience is enriched by traditional Vietnamese music performances on Wednesdays and Fridays from 7:00 pm - 9:00 pm.